Get Results with Ocean County's Original Business Networking Organization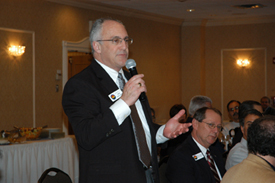 Because word of mouth is the most valuable—and trusted—means of promotion, OCBA is devoted solely to referring business to fellow members. Each year, thousands of leads and referrals are exchanged within the group. These referrals don't come automatically, however; they're earned through the mutual respect our members have for one another.
Once you've joined OCBA, you're virtually guaranteed business from members and their circle of contacts. What's more, you'll have fun in the group and discover a whole new world of friends and business associates.
To find out more about how OCBA works and how it might benefit you, simply click on the video belowe and view a short informative video on the most valuable networking group in Ocean County.
How OCBA Works
Only one person per business category is permitted to join, thus eliminating competition between members. OCBA applicants must meet certain requirements and are carefully screened before being accepted for membership. After joining the organization, each member is required to take the OCBA Ethics Pledge and attend meetings on a regular basis.
OCBA Meetings
OCBA generally meets the first and third Thursday of each month from 11:30 a.m. to 1:30 p.m at the Clarion Hotel & Conference Center in Toms River. Click here to view the meeting schedule. Each gathering begins with casual networking, followed by lunch and a business meeting. The afternoon culminates in the all-important "craft talk," in which a member speaks about his/her business and answers questions from the group. During the last few minutes, members publicly thank one another for business they received or referred.
Interested In Joining OCBA?
We're now accepting applications for new members. If you're interested in joining, click here to get in touch with our membership representative, or download a membership application immediately. For more information, call 1-866-606-OCBA.
Don't delay. Once your category is filled, you will no longer be eligible for membership. To view which categories are currently taken, check out our Membership Roster.