A Brief History Of The OCBA
By Roger Lees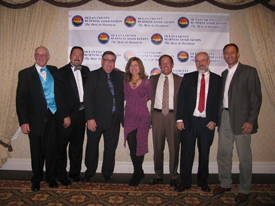 More than a quarter century ago, in March 1980, a handful of local business owners gathered at the Howard Johnson's Lodge in Toms River to form a novel business association. This small group included Victor Roccki, Sr. of E.F. Hutton; accountant Bruce Bowe of Jump, Bowe and Associates and real-estate appraiser Marie Godwin of Godwin Appraisals.
Patterned after a model used by the Monmouth County Business Association, the Ocean County Business Association would differ from local, non-business service organizations in that its sole purpose would be to conduct and refer business within the group. In addition, OCBA's founders wanted the organization to be comprised of qualified business people and have category exclusivity~that is, only one person from each business category could join.
OCBA was a success from the start. Dave Connolly, a local lawyer, came to the first meeting, joining Roccki, Bowe, Godwin and several others. From this nucleus, the organization grew in both size and reputation.
For more than 25 years, the Ocean County Business Association has gathered the finest business owners in our community to create and refer business. It has moved into this century as vigorous and motivated as it was when those few founding fathers (and mother) met at Howard Johnson's more than a quarter century ago.